Eagle-eyed Raspberry Pi Press fans might have noticed some changes over the past few months to the look and feel of our website. Today we're pleased to unveil a new look for the Raspberry Pi Press website and its online store.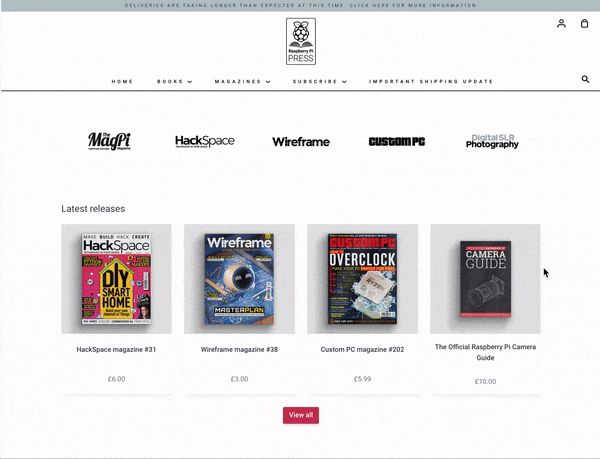 Did you know?
Raspberry Pi Press is the publishing imprint of Raspberry Pi (Trading) Ltd, which is part of the Raspberry Pi Foundation, a UK-based charity that does loads of cool stuff with computers and computer education.
Did you also know?
Raspberry Pi Press publishes five monthly magazines: The MagPi, HackSpace Magazine, Wireframe, Custom PC, and Digital SLR Photography. It also produces a plethora of project books and gorgeous hardback beauties, such as retro gamers' delight Code the Classics, as well as Hello World, the computing and digital making magazine for educators! Phew!

And did you also, also know?
The Raspberry Pi Press online store ships around the globe, with copies of our publications making their way to nearly every single continent on planet earth. Antarctica, we're looking at you, kid.
It's upgrade time!
With all this exciting work going on, it seemed only fair that Raspberry Pi Press should get itself a brand new look. We hope you'll enjoy skimming the sparkling shelves of our online newsagents and bookshop.
You can pick up all the latest issues of your favourite magazines or treat yourself to a book or three, and you can also subscribe to all our publications with ease. We've even added a few new payment options to boot.

New delivery options
We've made a few changes to our shipping options, with additional choices for some regions to make sure that you can easily track your purchases and receive timely and reliable deliveries, even if you're a long way from the Raspberry Pi Press printshop.

Customers in the UK, the EU, North America, Australia, and New Zealand won't see any changes to delivery options. We continue to work to make sure we're offering the best price and service we can for everyone, no matter where you are.
Have a look and see what you think!
So hop on over to the new and improved Raspberry Pi Press website to see the changes for yourself. And if you have any feedback, feel free to drop Oli and the team an email at rpipresshelp@raspberrypi.com.
The post The Raspberry Pi Press store is looking mighty fine appeared first on Raspberry Pi.
Read the Full Article here: >Raspberry Pi Blog – Raspberry Pi